Every year the University of Washington calls upon students "who actively connect what happens inside and outside of the classroom and apply what they learn to make a difference on campus, in their communities and for the future. Through their passion, leadership and commitment, these students inspire all of us to shape our own Husky Experience." Here's my story, and why I was selected to represent my fellow Huskies...

HÅfa Adai, Bonjour, & Hello
I am Dustin Mara. My parents are from the Philippines and Guam, in which much if my identity is rooted. This AAPI upbringing and my queer identity has taught me to be confident and bold in my actions and to ground that in the struggles and celebrations of everyday life. My experience at UW has only bolstered this way of living.
First a Husky Fan, then a husky.
My UW story starts way before my acceptance letter. As a local youth rower, the region looked towards UW's rowing programs as the gold standard — winning conference and national championships every year and producing Olympic athletes with every class. When I started rowing, my dream was to become the first BIPOC coxswain on the USRowing Olympic Team, UW was going to get me there.
Sort of recruited...
That dream hit a road bump when I was told the team was no longer recruiting for my class. It was reignited days later when the freshmen coaches told me I could join as a team manager and earn a spot the following year. I immediately accepted. Those first few weeks as an athlete preached what it meant to be a Husky and what it meant to 'earn the W' (being able to compete in Washington colors). I knew I was a part of something greater and I was going to grow into someone greater.
a team within a team
While on the team I was invited to join
SAASHA
(Student-Athletes Against Sexual Harassment & Assault.) I was thrown right into the deep end of the realities of a college campus, abruptly pulled from my adolescent ignorance and naivety. But with that said, it quickly became a cause I was passionate about. My first task was to rebrand the RSO, which led to increased support and attention from other sports. It also caught the eye of a local foundation,
Legal Hope
, which provides pro-bono support for survivors. The director saw my work and took me on as part of their communications team, on which I still work.
where am i?
Halfway through my freshman year I realized that I didn't belong and would never belong to the team I only ever dreamt of being a part of. The sport of rowing is extremely privileged, heterosexual, and Eurocentric — a background I didn't have as a the gay son of Asian-Pacific immigrants. Micro-aggressions were strewn across every practice, something I saw compound, but the team overlooked. As a freshman who wasn't really even a rostered athlete, I was the bottom of the bottom of the hierarchy, easily pushed aside and forgotten. As a queer person of color it didn't sit right with me how dislodged I was from a team that I worked so hard to be apart of. Everyday I questioned my existence in the Conibear Shellhouse.
a new challenge
At the same time I was struggling with my identity, I was struggling to prove myself in the university's design program. Design was something I never thought I could make a career out of, it was a hobby according to my AAPI parents. When I stepped into the lecture hall for DES166 I was terrified in the best way possible. Through the first project, I knew exactly that this was what I was meant to do — support others through thoughtful and empathetic design. Long-story short, I put in the work and was accepted into the design program with a 3.7+ GPA  bypassing the summer workshop.
my dawg pack
Washington Rowing
and
UW Design
are both rigorous programs that on an annual basis produce award winning individuals and leaders in their fields (whether competing at the Olympics or pioneering the future of design). These high standards (and conflicting schedules) meant I had to make a choice. At this point, I had created such a solid support network of fellow Huskies (all of whom, in my eyes, deserve to be apart of the Husky 100), that helped me make this decision of passion vs career, skill vs talent, sport vs education. With sleepless nights, much arguing, and many tears, I left rowing and pursued design where the cohort of 2022 became my new family who celebrated me for me.
a global crisis
At the end of sophomore year, a global pandemic broke out. Classes and RSO meetings for
SAASHA
and
Homeroom
(formerly Asian-Americans in Media, a group I joined through design peers) were moved online, I evacuated the dorms and moved back home, and I only saw my support network in group chats. The bulk of my design curriculum was taken online, which was frustrating and disappointing. The program prides itself on crafting designs in a highly collaborative studio. Zoom was not that. My cohort and faculty remained resilient and adjusted to coursework that fit these extraordinary circumstances. It was during this time that my cohort grew closer, more resourceful, and amazingly innovative — traits I will admire as we look towards our futures in the design industry.
Rowing renaissance
Although I had left the team, I was still so connected to the teammates I grew with in those first few months. With the pandemic, came the rise in awareness for the race disparities that plague our nation. I can proudly say so many of my former teammates were actively advocating for the issue. In the midst of it all, I made a single post about the experiences I had on the team and called on my former teammates to take action for future BIPOC rowers. 
This garnered attention to the podcast
Rowing in Color
which reached out to me. At the same time, my freshmen coaches recommended I apply to the
George Pocock Rowing Foundation
which creates rowing opportunities for underfunded and underrepresented communities. It turned out one of the directors was my previous coach who quickly took me on knowing how much culture change and positive impact I made on my youth team. This stemmed into a smaller group started by other Huskies called
Rower of Color Community
, which provided a safe space for BIPOC youth rowers across the country to voice their experiences and frustrations. This group also sparked interest of two local 'rowing moms' (one a director at large rowing boat manufacturer) who are championing a recruiting pipeline called BRNNE —
BIPOC Rowers National Name Exchange
which links POCs directly to influential collegiate programs nationwide. A few months later, boathouses restarted operations and my fears of being a BIPOC athlete dissipated as I joined adult rowing programs and started coaching youth.
they deserve support too..
The issues exacerbated by the pandemic did not stop at the design program. It was clearly revealed that the pressures of the curriculum and the online format was taking a toll on designers' mental health. I, along with peers and a program alum started
DesCare
, an RSO focused on supporting the wellbeing of those in creative majors — an industry that is prone to overworking and imposter syndrome. As the first president of the RSO I led the charge, finding professional speakers and program alumni who would speak on their experience and tips. We also piloted different events and programs that would leverage the notion that we must support one another and that taking a break can be productive too. This also connects to my work with the UW
Resilience Lab
, where I helped format and design the campus-wide 'Well-Being for Life & Learning Guidebook'.
'Olympian'
When I started at the University of Washington my goal was to be an Olympian. Four years have past and I have been privileged enough to have worked with many Olympic rowers in different capacities. This notion of an Olympian is of course tied to someone who has competed in the Olympics. But as someone who know a few personally, I think each and every Husky is in some way an Olympian. The Husky work ethic is that of someone who is industrious and understands the 'grind'. They make the most of every day both on and off campus knowing opportunity is only where you make it. Huskies believe in one another and support one another unconditionally. Above all, they believe in themselves and the path they have and will forge for themselves. As a part of this community I truly believe that the goal I set out for myself is coming true. I will be leaving this university with the moral and ethic of an Olympian and I will forever be grateful for that and the support system that got me here.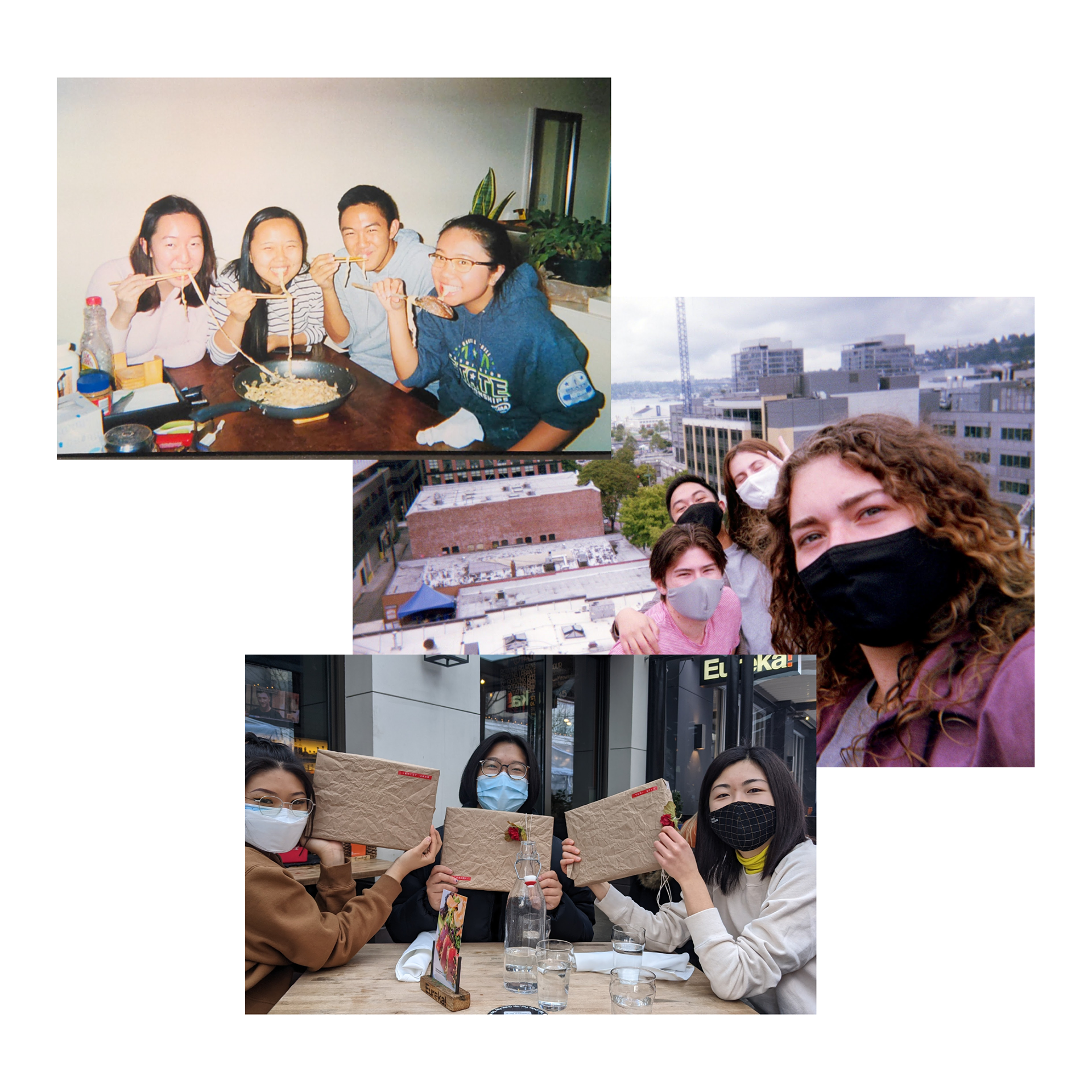 Thank you
Perhaps it was my upbringing that taught me self confidence/value and to always look at my life experience/support network for guidance... Maybe it was my innate identity from birth. Either or I know for sure my four years as a Husky that revealed what I needed to be confident in, how I bring value to the world, and who truly belongs in my support 'pack'. 
I'm extremely grateful to have been nominated to the Husky 100 and am honored to share a part of my story.  I would like to thank you for the opportunity to reflect on the last four years. It has been a rollercoaster ride of emotions, actions, and lessons learned. I'm excited to take this reflection into my final quarter at the University of Washington and my future as a Husky in the world. Woof!
— DUSTIN MATTAIO PANGILINAN MARA —
friend, Designer, & Proud Husky
ON-CAMPUS AFFILIATIONS 2018-22
Departments
Division of Design — Teaching Assistant (March 2021– )
CLUE — Discussion Leader (January 2022– )
Brotherhood Initiative — Media Designer (June 2021– )
Office of Youth Protection Coordinator — Media Designer (December 2019–December 2021)
Division of Design — Faculty Asst. Designer (June 2021–August 2021)
HCDE Design Research Group — Designer Researcher (January 2020–June 2020)
Resilience Lab — Print Designer (June 2020–September 2021)
Community Engagement & Leadership Education — Media Producer (February 2019–December 2019)
Men's Rowing  — Team Manager (September 2018–February 2019)
Registered Student Organizations
Student-Athletes Against Sexual Harassment & Assault — Communications/Outreach (September 2018– )
DesCare — President (September 2020– )
Homeroom UW (AAIM) — Design Committee Member (January 2020–June 2020)
Filipino-American Student Association sa UW Bothell — Honorary Member (September 2018–June 2020)



OFF-CAMPUS AFFILIATIONS 2018-22
Work
Legal Hope — Graphic Designer (June 2019– )
George Pocock Rowing Foundation (June 2020–November 2021)
Everett Rowing Association — Youth Coach (June 201–8September 2021)
VISTA AmeriCorps — Volunteer Media Producer (June 2020–September 2020)
B-Epic — Intern (June 2018–February 2019)
Organizations
Everett Rowing Association — Board of Directors (September 2021– )
Higher Education Protection Network — Contract Designer (January 2022– )
Rowers of Color Community — Coordinator / Mentor (November 2020– )
BIPOC Rowers National Name Exchange — Coordinator (July 2021– )
Steady State Network — Surprise Guest (April 2021)