Roam helps travelers detach from the ordinary and aspire to travel again. We help users find inspiration by presenting them in a way that completely uproots everything they believe about inspiration/project finding apps. We move through spaces filled with sensory items ready to spark a new adventure.
Roam is the brain child of three Visual Communication Design students at the UW. We'd like to give credit to a few guest speakers in our interface class who represent the highest of professional achievement at leading tech companies. Your passion for user experience as well as your ability to forecast the future has guided us down a path we never saw coming.
CONTEXT
a mobile  app concept and prototype
winter 2021 — 8 weeks
Client
Andrew Allen & Alex Chang — DES371 Interface I
TEAM
Vera Drapers — Visual Communication Design, Informatics
Edith Freeman — Visual Communication Design, Art History
Tools
Figma, Protopie, AfterEffects, Premiere Pro, Google Suite
Problem Space
How might we help national park go-ers find serendipitous and sensory moments to inspire their next park trip?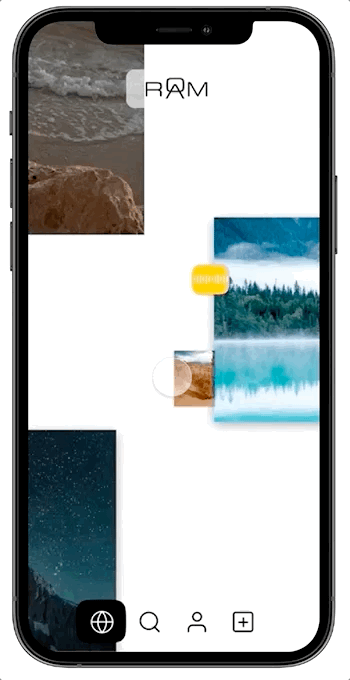 thru the senses
Our explore page moves in z-space enhancing the sensory experience of each moment. As you move through the space not only do imagery and videos get closer and larger, but sounds feel closer and surround you. When you enter a moment the imagery is large and fills the screen. You are able to fit the image as well as learn more about where it came from.  
searching for serendipity
We suggest you search for anything and everything. We push this idea of finding a vibe — whether that's through an emotion, sensation, or color. Our application  doesn't limit you but forcing  you to find the precise words for how you feel. Each moment is auto tagged and built upon so inspiration can appear anywhere.
full circle
As we found in our journey map that hardest part about travel is finding the energy and inspiration to go back out again once it's over. You are able to share your own moments from your own trips that will eventually inspire others. Once posted you join the larger plot of sharing and discovering beautifully wild moments. 
Thank you so much Vera and Edith, y'all rock. It was so pleasant and easy to work with you on this project despite the difficulties of zoom university. Glad we were able to keep each other on track and sometimes even ahead of schedule. So proud we stuck to our gut and made the design decisions we did. Thanks to Alex, Andrew, and Tim for leading a great class!